Is There a Right Method of Flossing?
Posted by 20TH AVENUE DENTISTRY on Mar 13 2022, 08:46 PM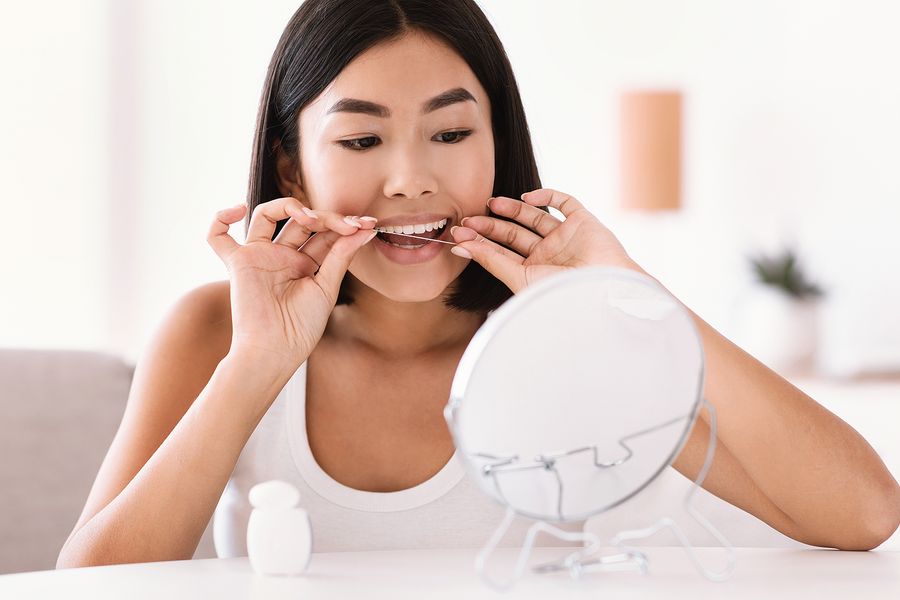 Flossing is one of the essential oral hygiene practices. It helps to dislodge the food stuck between the teeth. It also helps to reduce bacteria and plaque in the mouth. Flossing also polishes the tooth surface and decreases the threat to periodontal or gum disease.
How to Floss Correctly
Flossing should be done properly. Improper flossing leads to the damage of teeth and gums. Follow these steps to floss your teeth properly:
Cut off 18 to 24 inches of floss. Spool most of the floss around one of your middle fingers. Wind the rest of the floss on the opposite middle finger, leaving only two inches of floss to clean your teeth. 
The floss should be tightly held between your thumbs and forefingers. Different areas of the mouth can be cleaned by holding the floss in various ways using the index and middle fingers. 
The floss should be gently placed into the space between the teeth. Gently glide up and down the teeth. Do not break the floss into your gums. This leads to scratching of gums.
Once it reaches the gum line, curl it into a C-formation. This permits the floss to reach the space between gums and teeth.
The floss should be firmly held against each tooth. While flossing the side of the tooth, the floss should be moved away from the gums.
One must do the same procedure for each of their teeth all around the mouth. The backside of the last molar should also be cleaned. Use a fresh neat section of floss for each tooth.
Throw away the floss after using it. This is because a used piece of floss wouldn't be very effective. They could also leave behind bacteria in the mouth. 
Benefits of Flossing Correctly
The following are the key benefits of flossing correctly: 
It helps to protect your teeth from infection and germs. 
It helps to eliminate bad breath caused by leftover food particles in the mouth. 
Flossing reduces the risks of cavities.
It helps prevent gum disease.
It hinders the formation of plaque and helps you achieve a whiter smile.
Schedule an appointment with 20th Avenue Dentistry to know more about the techniques employed while flossing. We are located at 7575 W 20th Ave, Suite A1, Lakewood, Colorado 80214. Contact us at 303-238-1400 or visit our website to book an appointment.